We, "Fukusui Shoji", are an export wholesaler of fresh foods (fish, vegetable, fruit, meat), dry groceries,frozen foods, alcohol and beverages. Located in Fukuoka-city, and started seafood export business in 1980s.
---
Our destinations and our customers
▸We cover areas such as North America, East Asia, Southeast Asia and Europe.
▸Our exported items are delivered to:Food importers & distributorsRestaurant owners Liquor importers & distributors.
---
Items we can send to our customers
▸Fresh fish (wild caught/farmed) vegetables,fruits, meat.
▸Frozen seafood / processed food
▸Dry groceries (Snacks, noodles, confectionary etc)
▸Seasonings
▸Kitchen tools
▸Japanese alcoholic beverages ( Sake, Shochu, Umeshu, Japanese Whisky, Gin, Wine, Mirin etc.)
Almost all items which are needed for Japanese restaurant business.



---
How we value our shipment
Collaborative work by professionals in different areas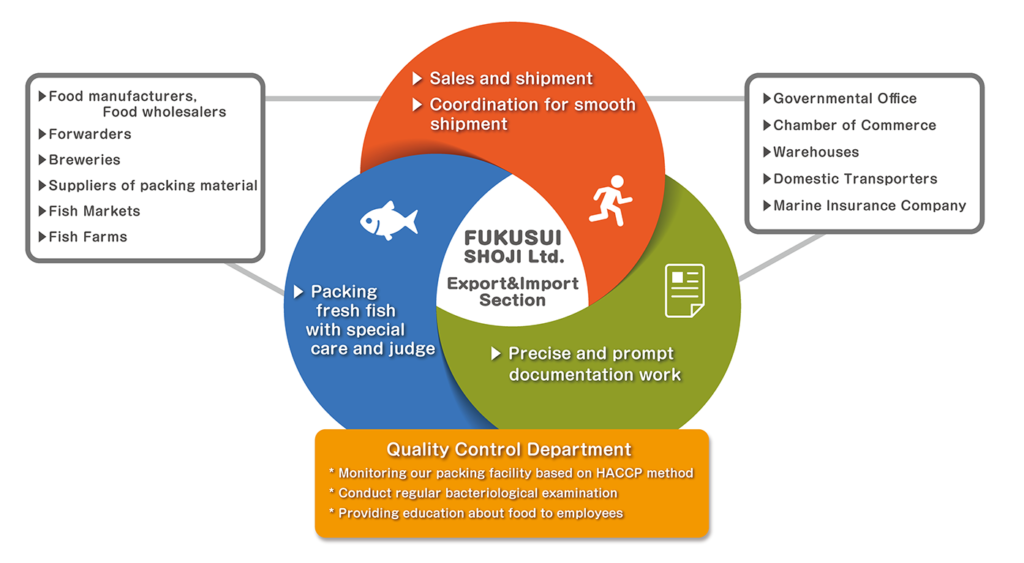 Value of our shipment is created by collaborative and professional work of our three internal teams. In addition,  we benefit professional support from external parties such as forwarder, warehouse, local government office which we have developed trustworthy relationship for long term.
How we value our shipment
Strengths and advantages of Fukusui Shoji as an food and sake exporter
▸Strength in supplying fresh and frozen seafood items
We can supply our customers with various kinds of fresh(wild/farmed) and frozen seafood items with our strong relationship and network with seafood suppliers all over Japan, including our home, Fukuoka Fish Market, and fish farms in Kyushu area, southern part of Japan.
▸Wide range of food items including sake are available
Not only seafood items, but we also can arrange various kinds of food items by air or sea container shipment based on customer's request.
▸Shipping documents preparation
We prepare invoice and also necessary documents at our side to meet import regulation of the country of import (eg. EPA Certificate of Origin).
▸Food safety control is always our priority
Our facility set up with a Quality Control laboratory, we handle and pack items under HACCP method to secure the quality and hygiene standard.
▸Support is available in three languages
Japanese, English and Chinese (Mandarin) fluent staff are available to serve and communicate with oversea customers.
---
We are licensed exporter of Japanese Sake and all other Japanese alcohol beverages
License for Sake export of alcohol beverages was authorized to us by Japanese National Tax Agency in 2011.
Under our liquor export license, all kinds of Japanese alcohol products can be shipped to oversea liquor importers.
Based on customer's requests and preferences, we find and introduce a list of suitable breweries or brands and products for you, and then coordinate an export shipment by air or sea container from any port in Japan.
We work as an intermediary between an importer and a brewery to support their communication based on strong partnership.
We understand there are still challenges for increasing Sake sales in any countries in the world. Such obstacles are seen in distribution, taxation, health trend, pricing, point of sales, consumers' mind… anywhere. Therefore close relationship and co-working among three parties [brewery, shipper, and importer] are inevitable to overcome them and be successful in this developing market.
One of the things that should be done to open sake market is to give education to consumers and people in liquor business. Having a local Sake event could be one influential solution. We support your sake event by providing promotion goods, information about sake and brewery, and having our staff at the event, and even introducing nice food parings with sake and fresh fish which we have strength in.
For inquiry about our sake export please contact to     :

---
---